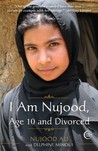 I Am Nujood, Age 10 and Divorced by Nujood Ali
My rating: 2 of 5 stars
I really wanted to like this book but I felt that it needed so much more. I mean, it was her story but it was so short and such light reading. I finished the book in 2 hours. There could have been so much more background into the culture of a society that married their girls off at age 9. There was so much co-author influence in the book that I had a hard time believing in some of the statements made by Nujood. Is that really the way a 9 year old thinks?
0