Let's talk subscription meal kit delivery. Do any of my readers do this? Blue Apron, HelloFresh, Sun Basket, Plated, etc etc. They seem to be popular these days. But, I'm not really one for following trends or being popular. Just ask anyone that went to middle school or high school with me. Popularity is NOT my thing.
What is my thing? Well, if we're talking about meal planning, meal prep, and cooking then the answer would be simplicity.
I absolutely hate meal planning. I don't know why. It's only my husband and I. How hard can it be? Not very. Neither one of us is even picky eaters. We'll try almost anything. I just don't like to do it. I plan, organize, and schedule 40 hours a week for my job and I don't want to do it at home. I could leave that to the husband but he's not a fan either. So, here we are. Two people that don't wanna plan a meal. #FirstWorldProblems right?
My husband already does the grocery shopping. Isn't he great? I mostly do the meal prep and cooking each weeknight due to our work schedules. I get home an hour and a half before he does so it makes sense for me to start dinner. We partner on cleaning up.
But sitting down and figuring out what we are going to eat for the week is tortuous. I know, I know, it is all my head. Just do it. But UGH! Why can't I be wealthy and have someone do it for me? And the cooking too while they are at it. I mean, seriously, if I won the lottery I wouldn't have a ton of fancy stuff and a zillion houses and clothes. I'd have a chef or eat out all the time. I'd have a maid. I'd travel the world and never work. That's about it. No fancy. Oh, and room service. Just like Josephine in one of my top 10 movies, Tombstone (watch this from the 2:50 mark).
So, when I kept reading about all these meal delivery subscription services I thought I would try it. We are doing Whole30 right now for the month of January but for the last year, we have been doing the meal kit delivery.
We like delivery days of Tuesday. That means we eat a meal kit Tuesday, Wednesday, and Thursday for dinner. Easy meals after work we don't have to think about. Friday night is usually our one night out to eat in a restaurant. I don't mind planning/cooking more elaborate meals on the weekends as I have more time and desire. Monday is usually leftovers from Sunday meal.
Blue Apron was the first try. 3 meals a week for 2 people is $60. Tuesday delivery. They don't have any special meal plans other than some that they currently call Mediterranean Diet. (UPDATE: In 2018 they've done partnerships with Whole30 and Weight Watchers and now have more vegetarian meals (we do 1-2 of our meals from Blue Apron vegetarian usually – not vegetarians but just trying to cut our meat intake some). It would be easy to make their meals sugar-free, dairy-free, or gluten-free but then you are paying for delivery of things you aren't eating. I'm not sure where the boxes are put together but for me, they are delivered overnight via UPS.
I like this Vision page for Blue Apron. They work closely with suppliers and farmers who set the highest quality standards for every ingredient. They partner with Monterey Bay Aquarium's Seafood Watch and only source seafood that is rated "Best Choice," "Good Alternative," or recommended by Seafood Watch. Many of the ingredients are USDA-certified organic. They work with farmers and ranchers who raise animals without any added hormones or sub­-therapeutic antibiotics. They support farmers who use regenerative farming practices that help build healthy soil for future generations and grow their crops with minimal fertilizers and pesticides. A pioneer of humanely raised meat, Niman Ranch, has partnered to supply all of their meat.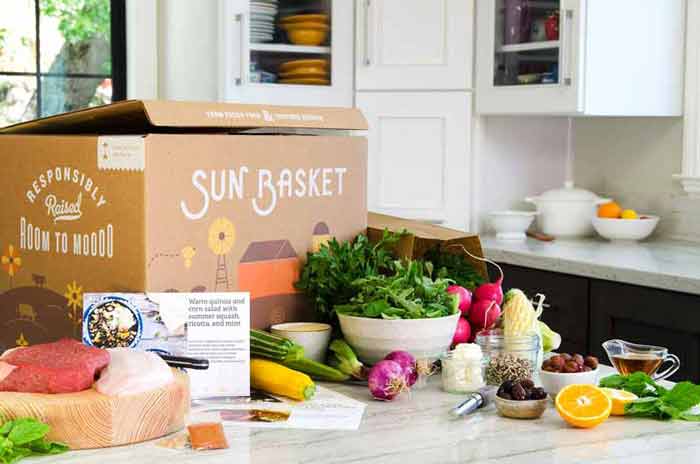 We tried 1 week of Sun Basket in the middle of our various tries of Blue Apron and Hello Fresh. Sun Basket definitely has the most options available for different diets by including Paleo, Lean & Clean, Gluten-Free, Vegan, Vegetarian, Pescatarian, and Mediterranean diets. That's 18 meals to choose from each week. You can mix and match. They also have more organic and sustainable choices. That comes at a cost as they were also the most expensive as 3 meals a week for 2 people was $72 and that does NOT include the $7 shipping. That is $79 a week compared to Blue Apron/Hello Fresh $60). They also only have 1 delivery day for my urban area and that was Friday. That really didn't work for us. I didn't want to hold the food until Tuesday to cook. Yeah, I know I could change the day we use them but this is supposed to be easy right? We were not going to spend that much money each week when the other two are almost $20 cheaper per week.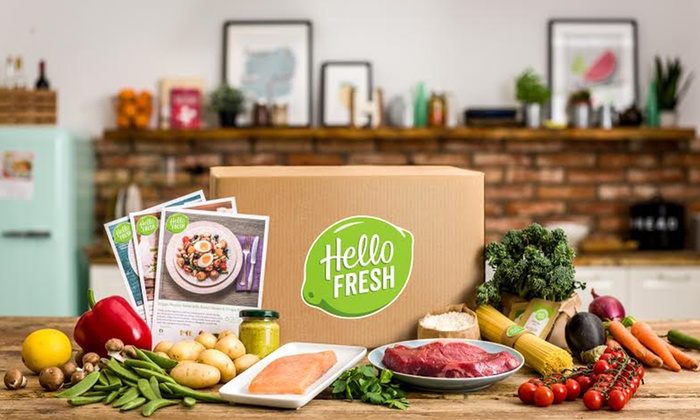 Lastly, we tried HelloFresh (use that link and you get $40 off your first week). Same price as Blue Apron in that 3 meals a week for 2 people is $60. Tuesday delivery. I'm fairly certain that these boxes are put together locally in Atlanta. We tried them for a few weeks, went back to Blue Apron, and then came back to HelloFresh.
Four times I had delivery issues with them. The boxes are supposed to be delivered overnight on Tuesday via UPS before 8 p.m. Twice it was delivered on Wednesday, once on Thursday, and once on Friday. Three of those times were in one month! They credited my account each time but it did cause an inconvenience. I have never had a problem with Blue Apron deliveries. The UPS driver advised me Blue Apron actually sends their boxes overnight whereas HelloFresh sends them with 2 day shipping and because they are shipped locally they deliver overnight as a courtesy. This means they don't have to deliver overnight.
Poultry is antibiotic and hormone-free. Pork is hormone-free. All meats are domestic. HelloFresh works with the Monterey Bay Seafood Watch program as well which ensures that all of their seafood is rated either "Green/Best Choice" or "Yellow/Good Alternative." Some of the fish species HelloFresh buys have additional sustainability certifications such as MSC (Marine Stewardship Council) for wild-caught and BAP (Best Aquaculture Practices) for farm-raised.
Each week there are certain menus that are gluten-free, dairy-free, or nut-free. They do offer a Vegetarian box with some of those menus also being Vegan. They don't have actual Paleo, Whole30, etc menus. Many recipes can be made to fit a special diet by opting to leave out certain ingredients (like cheese or yogurt). Some, but not all, of their ingredients are organic.
FINAL THOUGHTS
Both HelloFresh and Blue Apron use the same size delivery box with 2 frozen ice packs (water-soluble insides with a recyclable outside). The outer box and honeycomb liner are curbside recyclable. The meat is usually in between the ice packs. For HelloFresh all the veggies and miscellaneous items for each recipe are in three individual brown paper bags. I love that. I can just put the bags in the fridge and pull them out when needed. Blue Apron just literally throws everything in the box loose. That has made for some bruised/damaged veggies and such once we opened. Still edible though.
Is HelloFresh cheaper than a grocery store? According to them, yes! After completing a 10-week price comparison study analyzing their customers' costs versus the costs of those that shop at nationwide grocers, they discovered that HelloFresh is 75% cheaper than grocery shopping because they go directly to suppliers and don't mark up the price of ingredients. They deliver everything so you save on transportation. They keep it seasonal to get the most bang for your buck. They pre-portion ingredients and kiss food waste goodbye.
This goes for Blue Apron as well………I'm not sure I believe that for 2 people on 3 meals. I don't think it would cost me $60 to purchase the contents of 3 meals. However, I would have to buy more than just the amounts for these specific meals to use in other meals. That's fine but sometimes for us, it just went to waste and we threw food away because remember I said way up top we weren't good at meal planning.I'm paying for someone else to think up the meals and plan it out and portion it out as well.
We find that for us these meal kits really are 3 meals for us. Sometimes there is leftover for lunch the next day or a 2nd helping but they really are good for portioning out correct serving sizes and limiting caloric intake. Blue Apron says that its meals typically range from 500 to 700 calories per serving and I imagine HelloFresh is about the same as their recipes are similar. I've often thought of getting the family portion size so that we can get 2 meals out of it each meal; dinner that night and leftovers for lunch. Maybe I'll try that and report back. One of my readers suggested this would be great for single people too. With two servings for each meal that is dinner and lunch the next day essentially meaning six meals for the money. Many times we buy a bunch of extra veggies at the grocery store to add to these meals to get leftovers out them.
Both Blue Apron and HelloFresh are easy for us to prepare. We aren't novices in the kitchen. Typically they take less than 30 minutes to prep and cook. Blue Apron used to have a lot more elaborate meals with more steps and more dish/pots/pans but they recently must have restructured and have simplified. That was the original reason I switched to HelloFresh. The Blue Apron meals were just too much for weeknight cooking. But, I'm very good at looking at a recipe and thinking about how to simplify it. If I've got to make a gravy, saute meat, and roast a veggie then I'll cut out the saute part and just put it all in a sheet pan and roast it and make gravy. Less mess. Less time. Or not make the gravy at all.
Both services introduce us to recipes and food we'd probably never try otherwise and usually, we love it. We are prone to get into a rut. Most meals on a scale of 1-5 are a 4 or 5. Every now and then one will be a 3. I'll also sometimes add more to the recipe to taste; a little more garlic or a little more oomph.
Who will I go back to after Whole30 is over? I really feel like they are mostly the same. I like HelloFresh packaging better but hate that I can't depend on the delivery. I like that Blue Apron partnered with Whole30 and Weight Watchers.
Now all I need is someone to send me a box containing a magic wand and a spell to clean up the kitchen. So, I don't know………..maybe I'll just go buy a lottery ticket.
April 2021 Update:
We're back on Hello Fresh now. They have improved their delivery tremendously. We've been back to them for about 7 months now and not a single late delivery. They have also upgraded their menu options each week with a lot more to choose from. You can also add extra protein, a dessert, breakfast, and more.
12